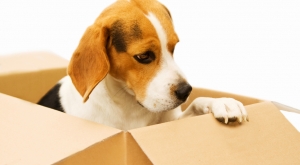 Congratulations on your new home in beautiful Fort Atkinson, WI! This is an exciting time for all members of your family. However, along with excitement, there is often also stress and anxiety associated with moving to a new home. Your four-legged family members can be especially vulnerable to stress when transitioning to a new environment. It's important to plan ahead to make their move as safe and enjoyable as possible. Below is a list of tips on moving with your pets and also a list of great pet related resources in and around Fort Atkinson.

Tips for Moving with your Pets
Visit your Veterinarian
Before your move, make an appointment with your current vet. During this appointment your pet can receive any necessary vaccinations for boarding and travel. You can also refill any prescriptions for your pet. Be sure to tell your vet that you are moving and ask for any recommendations they may have concerning possible anti-anxiety medication to help ease your pet during the move… Some pets become very anxious traveling in a car or by air. If you are not moving a far distance, anti-anxiety medications may also be beneficial for some pets who will become very stressed when transitioning to a new home. At your appointment, also remember to get copies of your pets' records to give to your new vet and boarding/daycare facilities.
Handling Flight Risk
The stress associated with moving causes many cats and dogs, who wouldn't otherwise do so, to run away. It is recommended that pets are boarded on both moving-out and moving-in days. On these days your home will be filled with strangers (aka. the movers) and doors will be left open to move items. You cannot expect the movers to keep your pet indoors. Fearful pets are prone to run from such a stressful scene and may be too scared to return even when called. If you cannot board your pet on these days, make sure your pet is secured in a crate or a room. Also, boarded or not, it is wise to update name tags and microchips with your new home address and phone number.
The Journey
Cats and small dogs are best kept securely in a well ventilated crate/carrier for long car rides. Large dogs should be secured by a dog seat belt or behind a barrier fence in the car. All pets should have plenty of potty and water breaks along the way. If you will be staying at a hotel, find one which is pet friendly and confirm directly with the hotel whether or not they will allow your pet. Don't trust travel websites for such information as it is often outdated.
The Destination
Hurray, you've made it to your new home! But, keep in mind, your pet may not be as excited at first as you are about his new environment. Your pet will likely be a flight risk until he has settled in. Try to make the new environment as stress free as possible by keeping up with your regular feeding and exercise routines. Also, provide your pet a cozy place to sleep that is all his own, preferably on one of his familiar pet beds. Luckily, Fort Atkinson is a lovely place to live not just for people, but also for pets. Below is a list of resources that will ensure your pet is happy and healthy in his new environment!
Fort Atkinson Resources for Pets
Veterinarians
920-563-0464
Animal Clinic of Fort Atkinson
(920) 563-7070
(920) 563-2307
Boarding/Daycare
(920) 728-3589
(608) 423-7997
(920) 222-9049
Dog Parks
Walking Trails/Other Parks
(920) 563-7781
Pet Supplies
(920) 563-7361
(608) 741-1534
608.758.9998