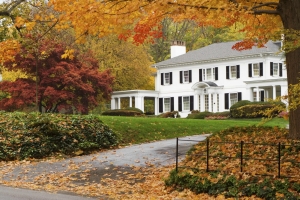 Fall isn't the first season one thinks of when considering buying or selling a home. Spring is the clear champion. But know that there are some unique buyers out there in autumn, and this could be a great year for fall sales. Home sales happen all year and there are cyclical trends in the marketplace. Some are based on interest rates for mortgages and what houses become available, others are season-oriented.
Fall has benefits for home buyers, including year-end tax breaks, comfortable weather for moving and a wide selection of homes on the market. While many homes look nice during the growing season, homes also look great when surrounded by the colors that only fall provides. The heat of summer is often too hot for buyers looking at home after home, and once winter arrives, with it's short daylight hours and cold weather, folks just want to stay indoors. Buyers and sellers tend to be more relaxed as the temperature begins to drop which creates more pleasant transaction on all ends. Agents, knowing they need to try a bit harder in fall, work hard to get more sales in time for the third quarter. As in spring there may appear to be more urgency to close the sale as homes can be swept out from under you, the same thing happens regardless of the season and you can benefit from a great selection of properties available. Don't be surprised that you can plan to visit several homes or open houses occurring any given day. When partnering with a Realtor make sure that they, and you, are keeping up with the listings to make sure you don't miss out.
Job changes can put some people in the position to have to move in fall, whether or not by choice. And people who need or want to move, want to be settled in before the holidays arrive. Some want to take advantage of tax benefits that home ownership can provide before the year ends like getting at least of few month of interest deductions from a mortgage for example. There are also property taxes paid, which are also deductible from gross income for tax purposes.
By the time winter rolls around, kids are already settled into school, made friends and are established in their extra-curricular activities. A summer move would be the least jarring to your their schooling and after-school calendars, although fall would be the next best choice. Making a move in fall can also ensure you'll be comfortable and prepared to entertain by the time the winter holidays arrive.
As demand for homes might be perceived as lower in fall than what you would see in spring, it's still right up there which keeps competition high as well. Fall buyers and sellers are usually motivated to make a move based on numbers. In contrast, the motivated and more casual buyers are out and looking in springtime. Here are some tips for home sellers and some for buyers as well.
Tips for the Fall Home Seller
Leaves tend to pile up around your property in fall. Keep them raked up and don't let other plants or trees block any windows. Keep all pathways to all entrances to your home clean and clear. This will make things more presentable from the inside and outside views.
Don't overlook your windows. Often the passing of spring and summer leave their mark on windows in the way of cloudiness and dirt. Clean your windows both inside and out. Often homeowner don't notice dirty windows until they are really bad, buyers on the other hand do. Make you home look well attended to and it will reflect well to potential buyers.
If you don't have any plant-life growing around the property during fall, get some. Chrysanthemums, Mums and Marigolds are all plants are and they bloom during those months. If you don't have or want them planted they can create a statement just by being carefully placed around the entry path (not in the way) in planters.
As you don't know what the temperature will be like when you have buyers visiting you might want to check some of the items used more in winter. Would you want to have a prospective buyer be in the house the first time the heating comes on? We've all experienced the dust (or the smell of it) blowing out of unused vents. Don't give your buyers any reason to have a bad experience. Make things as fresh and pleasant inside the home as you can. Change the filter in your furnace, clean out your fireplace or if gas, run it when a buyer visits for that extra sense of warmth and comfort. Creating the feeling of home for your buyer will make them more motivated. If your HVAC is in need of maintenance, have it looked at. Better to have that done before you sell than the possibility of having a home inspector make a judgement.
Tips for the Fall Home Buyer
Although this applies at all times of the year, knowing your market is paramount in buying a home. Understand what areas are appealing to homeowner and recognize how that affects property values. Make sure you make a checklist of things that are important to you when picking a home. If you have children, know what schools they attend or if you have schools you want to ensure they attend, make sure you are looking in within the area that applies. There is an overwhelming amount of information out there in different listings and a lot of things to consider. Knowing and mapping out what you want and most important to your purchasing decision will help make sure you don't overlook the details.
Another good piece of advice is if you are planning a move start looking 6 months before you need to. For example, knowing a house that appeals to you was on the market since spring might help you be a little more assertive in your offer. If a house has been sitting on the market, especially during a great summer for home sales, means it's either overpriced, or something else. From a seller's point of view, they might be much more willing and motivated to negotiate. They may be at a point where they just want or need to get the home sold and that can work to your advantage.
Always make sure you are checking the overall condition of the property. A home inspection is always recommended, but before you get to that point there are a lot of things you can look for that can give you an idea of how well the home was taken care of. How's the landscaping on the property? Has the homeowner kept it clean and tidy? Can you spot anything that needs repair? A home is a big investment and you want to make sure you are clear on any expenses that might fall into your lap once the purchase is complete. Checking things out and knowing the real costs can and should help you make a more educated offer.
Spring will always remain the most popular time to buy or sell a house. Despite that fact, fall can be just as productive for both buyers and sellers. Often the lower amount of traffic on both ends can mean better opportunities. Contact us today whether you are thinking of buying or selling and we can take advantage of the benefits of the season!